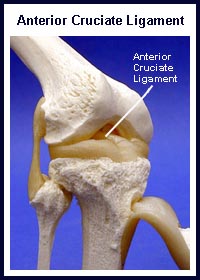 In order to better understand anterior cruciate ligament (ACL) injuries, it is important to understand basic knee anatomy and the function of the ACL. Please review ACL injuries sections of knee pain info.
The patellar tendon and the hamstring tendon are the two most common tendons used by surgeons to "reconstruct" the ACL.
The ACL is sometimes reconstructed using a synthetic ligament. In other situations, tissue from a cadaver can be used as a replacement for the ACL in reconstruction surgery.