In order to better understand the treatment options for osteoarthritis of the knee, it is important to understand basic knee anatomy and the function of articular cartilage. Please review the sections on knee anatomy as well as the introduction to osteoarthritis of the knee before reading this section.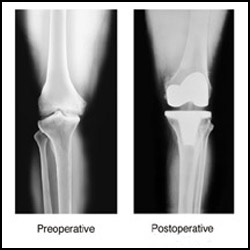 Osteoarthritis is a chronic disorder that gradually progresses over time. In the knee, the symptoms of osteoarthritis may include pain, stiffness, swelling, "locking," and "catching". These symptoms may progress to an eventual limitation of activities whether it is an inability to run or an inability to walk up and down stairs. There is no cure for osteoarthritis of the knee. The therapies currently available are used only to treat the symptoms.
What are the goals of treatment for knee osteoarthritis?
The 3 main goals of treatment for osteoarthritis of the knee are:
To decrease pain
To maintain or improve range of motion of the knee (ability to bend and straighten the knee)
To maintain or improve function (ability to climb stairs, run, jump, play sports, etc.)
There are many treatment options available and often, many different types of therapy must be used together to improve symptoms. The severity of an individual's symptoms, their level of activity, and their expectations for function determine which treatment is best.
The treatment options available to individuals with osteoarthritis of the knee can be divided into the following categories;
Education and Biomechanical Treatment Options
• Educational Resources
• Lifestyle Modifications
• Physical Therapy
• Supportive Devices (Canes, Braces, Orthotics)
Medications and Nutritional Supplements
• Nutritional Supplements and Nutritional Supplement Fact Sheet
• Oral Medications (Pills)
• Topical Medications (Ointments and Creams)
• Knee Injections
Surgical Treatment Options
• Introduction to Surgical Treatment Options for Osteoarthritis of the Knee
• Arthroscopic Knee Surgery and Abrasion Arthroplasty
• Osteotomy
• Total Knee Replacement Surgery
• Partial Knee Replacement Surgery
• Articular Cartilage Transplantation and Cellular Implant Surgery
For more information on available treatment please read our links section.